Life in India is influenced by the changing seasons and monsoon is no exception for that. Variety in the moods and emotions of monsoon is captured by the Indian music. In this article Ranjan Kelkar presents this reflection.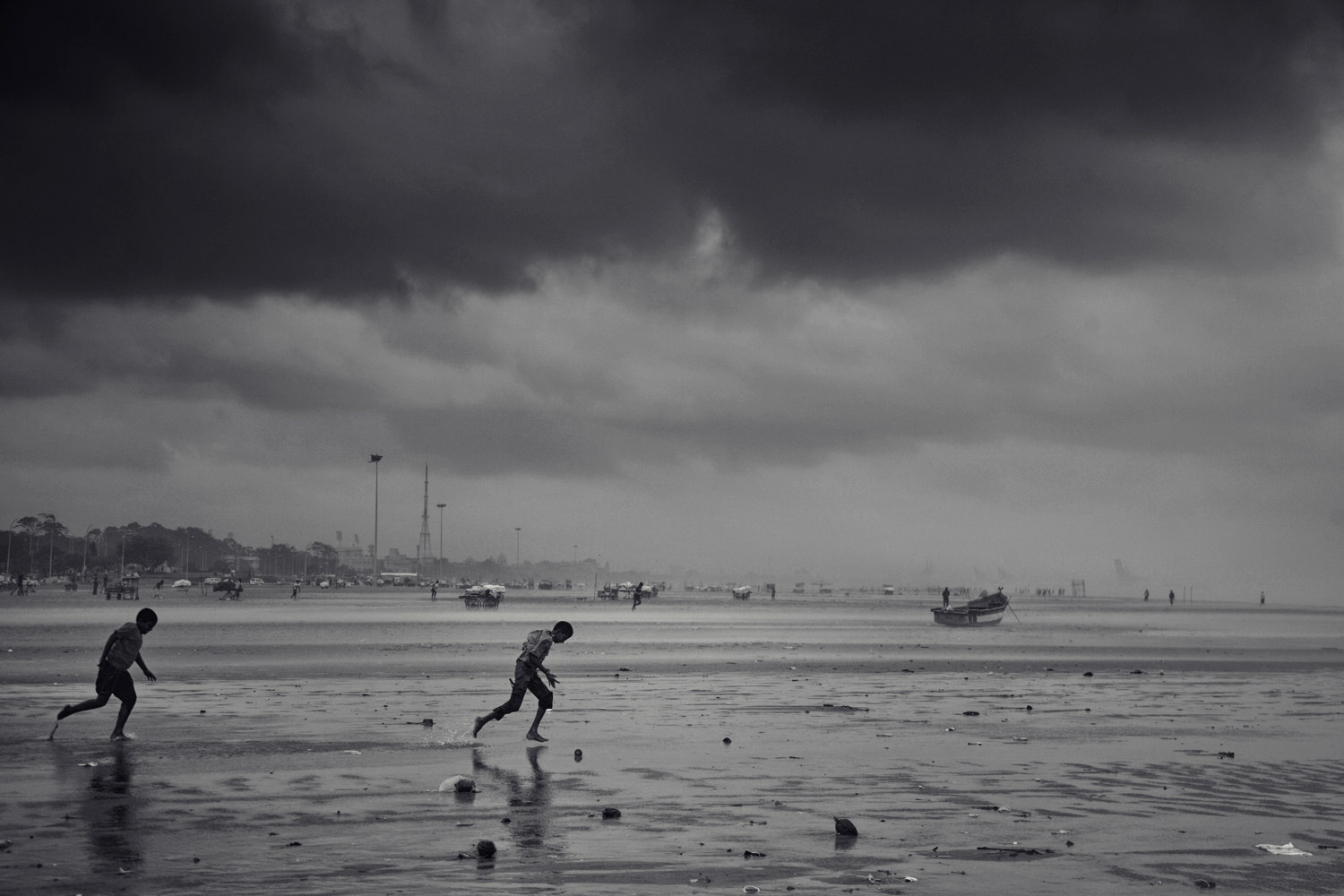 Raga Malhar is most suited to capture the range of moods and emotions of the monsoon, from the solemnity of the grey skies to the playfulness of the raindrops, from joy to sadness. The raga has many subtle variations. Legend says that this raga is so powerful that when sung it can even induce rainfall.
Ritu-chakra - the cycle of the seasons : In the middle latitudes, the year gets neatly divided into four 3-month seasons: spring, summer, autumn and winter. In India, the southwest and northeast monsoons disturb this regularity and we have summer (Mar-May), monsoon (Jun-Sep), post-monsoon (Oct-Nov) and winter (Dec-Feb) seasons. In the traditional Indian calendar, however, there are six seasons, each of 2-month duration: Vasant (Chaitra-Vaishakh), Greeshma (Jyeshth-Ashadh), Varsha (Shravana-Bhadrapad), Sharad (Ashwin-Kartik), Hemant (Margashirsh-Paush) and Shishir (Magh-Phalgun).
Life in India keeps on adjusting itself to the changing seasons. Farming practices, religious festivals, school timetables, cultural traditions, food, dance, music, are all tuned to the ritu-chakra. A unique feature of Indian classical music is the relationship of the ragas with specific times of the day and different seasons of the year which are conducive in bringing out their true essence. For each ritu, there is a distinctive raga or a family of ragas such as Vasant (Basant, Bahar, Hindol), Greeshma (Deepak), Varsha (Megh, Malhar), Sharad (Malkauns), Hemant (Hemant, Shree), and Shishir (Bhairav).
Malhar - the Monsoon raga : Raga Malhar is most suited to capture the range of moods and emotions of the monsoon, from the solemnity of the grey skies to the playfulness of the raindrops, from joy to sadness. The raga has many subtle variations like Shuddha Malhar, Megh, Megh Malhar, Miyan ki Malhar, Gaud Malhar, Ramdasi Malhar and others. Legend says that this raga is so powerful that when sung it can even induce rainfall.
Many popular Hindi film songs have been based on raga Malhar or its variants. There was a Hindi film named Malhar, released in 1951, with its entire music weaved around this raga by Roshan. But perhaps the most popular film song in this genre is the modern classic, Bole re papeehara, from the film Guddi of 1971, written by Gulzar and set to the authentic notes of Miyan ki Malhar by music director Vasant Desai. The singer was Vani Jayram, who received several awards including the prestigious Tansen award for this song. The song was picturised on Jaya Bhaduri, who had made her debut in the title role of Guddi.
Historically, of course, it is Tansen himself who is regarded as the real exponent of Malhar and raga Miyan ki Malhar is named after him. But in modern times, Malhar is identified with Kishori Amonkar, the legendary classical Hindustani music singer of the Jaipur gharana, who became known as Malhar Mallika. She is famous for her many renditions of Malhar and her own innovations like Nat Malhar and Meerabai ki Malhar. Some of her popular numbers are Badarwa barasanko aaye in raga Soor Malhar and Aai re badariya kaari kaari in raga Adana Malhar.
Garajat barasat and rim jhim - the onset of the Monsoon : The arrival of the southwest monsoon is a reason for rejoicing. The clouds gather over the horizon, the sky becomes a grey overcast, showers quench the thirst of the parched earth, crops get sown, fields bloom and there is music in the air. It is the time for romance, the time to sing and swing, to dance and celebrate.
Many times, the onset of the southwest monsoon is heralded by violent thundershowers, garajat barasat saawan aayo re as some songs put it. But once the monsoon has been firmly established across the country, thunderstorms get much fewer in number. The monsoon rains come in a steady light drizzle, freed of the distractions of thunder or lightning. This is the rim jhim of the monsoon that makes the heart dance joyfully to the rhythm of the raindrops.
Talat Mahmood and Lata Mangeshkar sang Aha rim jhim ke ye pyare pyare geet liye, for the film Usne Kaha Tha of 1960. Although monsoon clouds do not have the proverbial silver lining around them, this is a song of joy and hope. Aayee raat suhani dekho preet liye...haatho mein mere tera haath rahe...mera tumhara sari zindagi ka saath rahe. With Shailendra's lyrics, and Salil Cloudhury's music, it is a song with a fast rhythm. But Naina barse rim jhim rim jhim, piya tore aawan ki aas sung by Lata for the film Woh Kaun Thi of 1964, was a slow song, and Madan Mohan's music was sad, mysterious and haunting.
Rim jhim gire sawan were two songs sung separately by Lata and Kishore Kumar, under R. D. Burman's music direction for the film Manzil of 1977. Rim jhim gire saawan, sulagh sulagh jaye man, bheege aaj is mausam mein, lagi kaisi yeh agan...jab ghoongaruon si bajti hain boonde.... The Kishore Kumar song was shot in Mumbai during a heavy downpour, with Amitabh Bachchan wearing a full suit and Moushumi Chatterjee a saree, walking along the Marine Drive wall and then sitting on a bench oblivious of the rain.
The film 1942 A Love Story, released in 1994, was a product of modern technology and R. D. Burman's music. It had this lovely colourful duet Rim jhim, rim jhim, rum jhum, rum jhum sung by Kumar Sanu and Kavita Krishnamurthy for Anil Kapoor and Manisha Koirala on the screen. Rim jhim, rim jhim, rum jhum, rum jhum, bheegi bheegi rut mein, tum hum, hum tum, chalte hain... bajta hain jaltarang...motiyon jaisa jal barse... wrote Javed Akhtar. The monsoon rains are like pearls coming down from the sky and dancing at your doorstep!
Purvaiya - the easterly wind : The southwesterly winds that blow across the southern peninsula make an about-turn over the Bay of Bengal and reach the northern plains as easterlies, immediately cooling down the atmosphere. There is singing and dancing, swinging on the saawan ke jhoole. The lal dupattas and bheegi chunariyas go flying around. The river waters rise and the naiyas set sailing. In the 1994 film Hum Aapke Hain Kaun, Madhuri Dixit and Salman Khan danced a 9-0 countdown to launch the magical spell of the monsoon easterlies: Thandi thandi purvaiya mein udti hai chunariya, hey dhadke mora jiya rama, bali hai umariya, dil pe, nahin kaabu, kaisa yeh jaadu? Yeh mausam ka jaadu hai mitwa, na ab dil pe kaabu hai mitwa, naina jisme kho gaye, deewane se ho gaye, nazara woh harsu hai mitwa... The duet was sung by Lata and S. P. Balasubrahmanyam under the music direction of Ram Laxman.
Kali ghata - the lonesome black cloud : The dense, extensive, rain-bearing cloud of the monsoon appears very bright in satellite images, but it looks dark and threatening from beneath. In Sujata (1959), Nutan played the title role of a lowly, lonely, girl growing up in a family but not quite a part of it, longing for a friend. One grey afternoon she looks up to the sky and spots a dark cloud which she feels can empathise with her Kali ghata chhaye mora jiya tarasaye, aise mein kahin koi mil jaye,...main hoon kitni akeli tu yeh jaante, mere berang jeevan ko pehchanate.... The song was sung by Asha Bhosle and music was given by S. D. Burman.
There are other songs which ask the dark cloud to go away to the land of the beloved Jari jari o kari badariya, mat barso ri meri nagariya,...pardes gaye hain savariya,...jaiyo jaiyo ri desh piyake. This song sung by Lata for Meena Kumari in Azad (1955) had a lilting tune composed by C. Ramchandra.
Kya karoon - a question : I end this article with a question that Lata posed on behalf of Raakhee in the film Sharmilee (1971) in a song under S. D. Burman's music direction; Megha chhaye aadhi raat, bairan ban gayee nindiya, bata de main kya karoon ? As always, we remain in search of the answers to many of our questions. We have neither understood the real meaning of life, nor have we fully unravelled the mystery of the monsoon.
---
Prof. R. R. Kelkar was Director General, India Meteorological Department, New Delhi from 1998 to 2003 and ISRO Chair Professor, SP Pune University from 2004 to 2008. He is the author of eight books, the latest being Satellite Meteorology published in 2017.