My Days in Public Weather Service
One has to be weather-wise if not otherwise, goes the saying. Having served the India Meteorological Department for more than three decades, Dr. Ramanan shares few interesting incidents in his career. He had become a popular face of weather forecasts in the media.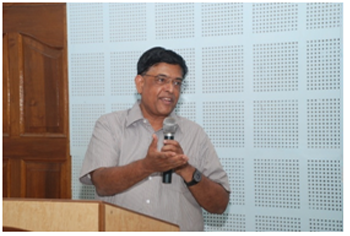 I suddenly received a phone call to visit Sriharikota prior to the launch day. During the meeting, the then chairman of ISRO Shri. Madhavan Nair asked a pointed question regarding a cyclone. There was a cyclone centered around 550 kms east of east of Chennai and it was stationary for the past three days. In this scenario, is it advisable to launch the satellite ?
One has to be weather-wise if not otherwise goes the saying. During my 36 years of service in the India Meteorological Department, the last fourteen years had been in Public Weather Service. One may ask if the department's service itself is in public interest, then what the public weather service is all about ?
The department has dedicated services to different segments like aviation, shipping etc. Public weather service pertains to rendering services to ensure the safety of life, the protection of property and well being of nations citizens. Hence there is a requirement for providing timely and reliable warnings and forecasts in a comprehensive manner.
For instance, in case of an impending cyclone, there is a need to give forecasts and warnings for heavy rainfall, strong winds, and storm surges. In addition warnings for the fishing community, advisories are issued sector wise related to the impact of cyclonic disturbances on structures (like huts), communication lines, crops etc. These forecasts are given immense importance by disaster managers and people working in all sectors which are weather sensitive. Travelling public alter their travel plans on the basis of weather forecasts.
The problem with the general public is the lack of understanding regarding the term weather and climate. People often substitute the word climate in the place of weather in their day to day usage. We usually hear people saying 'today's climate is fine'. Such a statement is wrong because it is weather, and not climate, that is to be associated with daily timescales. Climate is associated with seasons. If somebody asks that they would like to travel to Spain during peak summer months, it would be much hotter than Mumbai. If they want to visit Argentina, we may suggest them to take woolen cloths. Generally, the most commonly asked questions such as "would it rain on a particular day, what is the expected temperature today, and will it be cloudy today" ? are all related to weather.
As a director of Cyclone Warning Centre, I can share a few interesting moments. Some of them were really challenging. Tropical cyclones are disturbances in tropical seas (area between tropic of cancer and tropic of capricorn). Our area of responsibility is north Indian Ocean comprising of Bay of Bengal and Arabian Sea. I am not going much in to the science of classification of the cyclonic disturbances, its formation or its intensification and land fall. If I go into them, that could become a separate article in its own right.
Apart from public weather service, we have specialised weather services like forecasts during satellite launches. Weather parameters in the troposphere (up to 17 km in height from ground) are very important for trajectory shaping of satellite launch vehicles. We would normally visit the launch centre at Sriharikota a few days prior to the launch but certainly not on the launch day. Launch day would have many VIP visits and their associated security arrangements.
During one particular launch, India was launching 4 satellites using a single rocket. Last year, Indian Space Research Organisation (ISRO) had launched more than 100 satellites in using one rocket launch. I suddenly received a phone call to visit Sriharikota prior to the launch day. During the meeting, the then chairman of ISRO Shri. Madhavan Nair asked a pointed question regarding a cyclone. A cyclone centered around 550 kms east of east of Chennai and it had remained stationary for three days. In this scenario, he asked, is it advisable to launch the satellite ?
I answered in the affirmative that we could launch the same. The reason was that the cyclones generally move at the rate of 300 kms per day and our launch would happen before noon the next day. Moreover, most of the numerical weather models had suggested a north easterly movement towards Myanmar. So, I replied that there should be no problem due to weather. That cyclone was the Very Severe Cyclone Nargis and rest is history. It caused huge damage in Myanmar in terms of life and property.
Another one which still stands in my memory is a very severe cyclone Thane. I received a phone call from a disaster manager of Pondicherry administration. He informed me that the wind speeds are strong, whether it would be advisable to go out and help the people. I told that it would be best if he stayed indoors. The local correspondent of All India Radio also spoke about strong winds. I told him the winds would abate and it should become normal. But it will only be a temporary respite. Again the strong winds would start blowing from the opposite direction.
The best thing would be to start continuous radio broadcast advising people to stay indoors to protect themselves. The calm situation is purely temporary due to the centre of the cyclone making a land fall in the neighborhood. Our advice resulted in many saved lives. When I visited Pondicherry in the aftermath of the cyclone, one fishermen caught hold of my hands and told me that he is alive only due to the timely warnings. His words carried much more value to me than an award.
All these improvements in the warnings can be attributed to the advancements in scientific and technological areas, namely, in communications, satellites, weather radar and computer based models.
Another interesting incident is my interaction with the Andhra Pradesh chief minister Shri. N. Chandrababu Naidu. When Very Severe Cyclone Hud Hud was looming large in the Bay, I was directed to visit Hyderabad and brief him. I took my laptop and frequently downloaded all the forecast products at frequent intervals and made a powerpoint presentation. I showed the current satellite and radar pictures. The forecast position and warnings issued by the departments and graphic products about wind shear (the vector difference between the winds at lower and upper levels), the steering winds and sea surface temperature. These graphic products were shown to the chief minister to emphasize that the cyclone would cross near Vishakhapatnam as a very severe cyclonic storm. The moment the storm crossed Vishakhapatnam, I took the flight to Chennai and the chief minister left Hyderabad to oversee the relief operations at Vishakhapatnam.
During my tenure, both the electronic and print media helped me in disseminating the warnings to the public. Even when the system is a depression, they would ask whether it is a cyclone. I have to be careful in not using that term. It has lot of implications. One day when all the reporters asked me whether there is any cyclone, I started looking for something in my shirt pocket. When they enquired what I am searching for, I told them that I am searching for the thing which they were asking. They started laughing and left the place without further questions.
Forecasts and warnings are not done by a single person. Many observers working in remote locations collect data and these are fed into computers for analysis. Large number of people across the globe are working in satellite, radar, instrument, weather modelling and they all contribute for the preparation of the forecast and warnings.
As a spokesperson, I was only acting as the face of the department. I take this opportunity to thank all those who cooperated with me in discharging my duty. I demitted office with full satisfaction and spending my time delivering lectures to students and the public on matters related to weather and climate.
---
S. R. Ramanan was a Director of Cyclone Warning Centre in Chennai, India. He retired in 2016, after serving the India Meteorological Department for nearly thirty-six years. He had become a popular face in the media as Chennai's 'weather-man'. He interacts and engages with the school students to create awareness about climate, cyclones and disaster management.